Description
Do you need an effective and scalable server that suits your IT infrastructure that deals with high-compute and database workloads? Select HP ProLiant DL580 Gen7 server that comes with good expansion capabilities and purchase from the Cyberwala website at an affordable price. This rack server features RAS (Reliability, Availability, and Serviceability), ensuring high-end server performance and improved server lifetime. The ProLiant server is specially designed for IT environments, which require high processing and memory speeds for multiple business applications. It supports Intel Xeon processors and huge storage and memory capacities to support heavy or complex workloads. Automated management and security features uphold the maximum uptime. Our additional benefits include a 3-year warranty, free 24/7 technical support, and instant delivery services.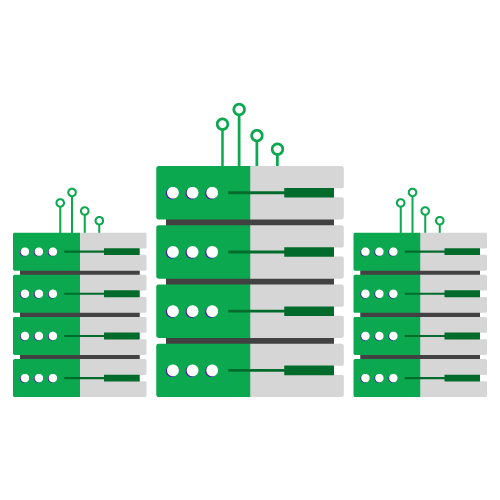 4U Rack Server with RAS Features
HPE ProLiant rack server comes in a space-saving 4U form factor with flexibility for deployment. It includes RAS features like memory quarantine to maintain the server uptime by sending notifications to administrators if any errors occur. These improved features eliminate the performance bottlenecks and offer an extended server lifetime.
Designed for Challenging IT Environments
HP DL580 Gen7 server is a purposeful design system with robust Intel Xeon processors for complex IT environments. The server suits for running large database applications and business systems that need large memory and scale-up computation workloads. It can be adaptable for small or large enterprises.
Four Sockets for Intel Xeon Processors
HP G7 server supports Intel Xeon E7-8800, E7-4800, or X7500 series processors with four sockets that provide speeds up to 2.6MHz and 30MB L3 cache. These processors have in-built advanced memory correction and improved data correction technologies to protect the system against memory chip failures.
High Memory and Storage Capacities
HP DL580 server supports up to 64 DDR3 registered (RDIMM) memory modules and 8 SFF SAS drive bays. It provides a maximum memory capacity of up to 2TB and a storage capacity of 9.6 TB. It supports smart array controllers to expand the storage capabilities that increase data retention.
Intelligent Automated Server Management Platforms
HPE DL580 G7 server ensures better operating stability and higher uptime with the HPE's iLO (Integrated Lights Out) technology. It provides remote access to the server functionalities and power control from anywhere. The automated monitoring tools prevent hardware issues before they occur through the Proactive Insight tool.
Enhanced Security Features
This HP server supports advanced security features like network server mode, power-on password, serial interface control, etc. They will enable the system protection from unauthorized access and prevent malicious attacks or viruses. The security infrastructure brings improved server maintenance and ensures data safety that increases productivity.