Description
Are you in search of a cost-effective server that helps you create infallible virtual platforms? Want to buy a resilient server that can pace up with your workflows? Cyberwala is here to provide you with an ideal solution for all your server-based requirements with the refurbished Dell PowerEdge R810 servers. These servers can be best used for virtualization, small and mid-sized businesses, databases, data-intensive, and consolidating workloads. The resources of this Dell R810 server can be scaled up quickly and can resist the most pressured work conditions with utmost ease and efficiency.
You can remotely test both our pre-configured and customized servers to cross-check their compliance with your work. Cyberwala promises the best quality servers to its customers. Every refurbished Dell R810 server will be tested in numerous work environments in burn-in conditions to evince their quality and credibility. We tag these impeccable servers with the most affordable prices, which are frequently updated based on the market value. Get in touch with us to buy our refurbished Dell PowerEdge R810 servers and relish the advantages of free technical support, assured warranty, and fast delivery services.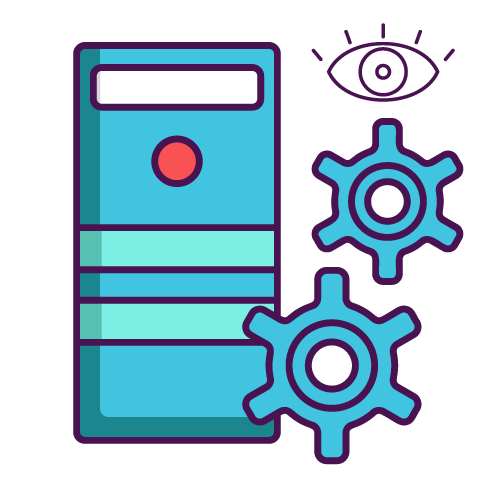 Create Scalable Virtualized Environment
Are you planning to boost your virtualization environment with minimal investments? Choose the refurbished Dell R810 server that can control and handle your virtual workflows without any additional effort. Users can build completely reliable and scalable virtual environments using our Dell servers. When installed this Dell server with two processors, can host up to 32 virtual machines, and on the other side, under a four-processor configuration, this R810 server allows you to create a total of 80 virtual machines.
Supports Upto 4 Intel Xeon CPUs
The Dell R810 server is well known for sustaining loads of multiple high-end processors. It presents Intel's 7510 chipsets and can support either two or four Intel Xeon processors, based on your choice. You can choose between two 8-core Intel 6500 series processors or two 8-core Intel 7500 series processors, four 10-core Intel E7-2800, E7-4800 E7-8800 product family processors for running your workloads with better speed, performance, and efficiency on this Dell R810 server.
Huge Memory with 32 DIMM Slots
Are you looking for a high-end server that can provide you with the memory you desire? The refurbished Dell R810 server comprises 32DIMM memory slots that can support numerous memory cards ranging from 1GB to 32GB. The DDR3 ECC RDIMM and LVDIMM modules can be installed in this R810 server, and a maximum memory of 1TB is availed to customers with memory speeds of up to 1066 MT/s to improve the accessing times and performance of the server.
Impressive Storage with SSDs & HDDs
Create as many backups as you want and store enormous information on our refurbished Dell R810 servers as they can easily support maximum storage of up to 6TB and a great number of PERC RAID controllers for secure data backups. You can use good enough six SFF SAS, SATA, nearline SAS, and nearline SATA storage interfaces of both SSD and HDD storage drives in these Dell R810 servers to proffer huge space for your applications and data.
Best Quality Servers with Warranty
Cyberwala never settles for anything less than the best. We refurbish our Dell R810 server will high-end hardware components and test them in extreme working conditions to ensure that they are in perfect condition. Also, our Dell PowerEdge R810 servers are backed up by strict warranty plans. If you encounter any problems with our server in the given warranty period, the replacement charges will be on us. We will provide you with genuine spare parts as soon as possible.
Prompt Delivery with Multilevel Packing
Do you want your Dell R810 server delivered safely without any delay? Cyberwala will certainly meet your expectations. We have tied up with a team of most experienced delivery agents who will deliver your server to any place in India within 2-3 working days. The servers you receive will be packed in multiple protective layers and sealed in firm corrugated boxes. Our delivery agents will take utmost care of your servers and make sure you receive them on time.
Remote Testing Option Available
Are you unsure whether the Dell R810 server meets your work requirements? We know what you expect from the server, and we will make sure you end up with a sturdy server configuration that can keep up with your diversified workflows. Our remote testing option lets you test various software, applications, and workloads of your process, on multiple configurations of our Dell R810 servers. After testing, you can choose a configuration that perfectly suits your needs without compromising the performance.
Free Hardware Installation & 24/7 Support
Need some help with our Dell R810 servers? Let Cyberwala take care of that. We have an excellent team of technical experts who have hands-on experience with our Dell PowerEdge R810 servers. They will walk you through the installation process and make certain that the server is properly installed. If you face any doubts or issues with our Dell R810 server, you can consult our technical support team, who will be at your service round-the-clock to resolve your concerns.