Description
Are you in need of a server that runs complex applications and accelerates your IT operations? If yes, then choose Dell EMC PowerEdge R840. It is a one-stop solution for all your computing needs. With 2U Form Factor and four-socket performance, Dell R840 is one of the best servers which is designed to run with consistent performance. The Dell R840 server is easy to manage as it has its own management capabilities. If you are looking for the one which meets all your IT infrastructure demands, then R840 is the right choice as it automates the routine work and you can prioritize the higher-value tasks accordingly. R840 supports QuickSync 2 which helps you to access servers using your mobile or tablet. You can also prevent suspicious activities with the help of the 'Server Lockdown' feature. Buy Dell EMC PowerEdge R840 from cyberwala and speed up your business. With the best price offered and customized configuration available, enjoy warranty perks and doorstep delivery.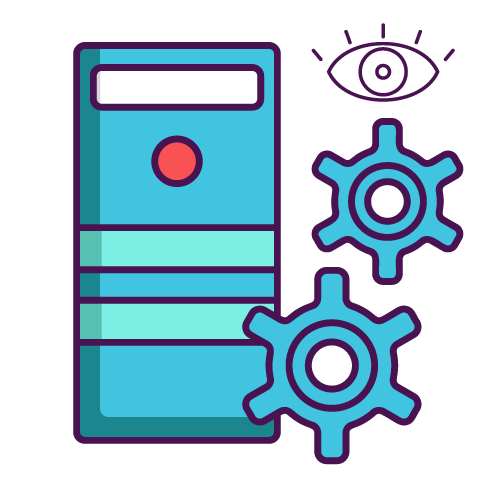 Ideal to data intensive applications
To cater to high business productivity and to run parallel computing applications, you need a server arrayed with powerful processors. And Dell R840 is the one that handles such demanding workloads. Compared with the Dell PowerEdge R740 which results in optimal application performance concerning to VDI and cloud workloads, R840 delivers high results for data-intensive workloads, dense virtualization and high-frequency trading. Thus, Dell R840 can be said as a high-powered server that helps your business run faster.
Powerful Processors to Improve productivity
The Dell R840 server is a powerful server which delivers high performance. Intel Xeon Scalable processors of second- generation are used with the Dell R840 server. And up to four such processors can be installed. These processors support up to 28 cores per socket,and that allows the server to run up to 224 virtual machines. Dell R840 is more robust when compared with Dell PowerEdge R730 as it supports two processors and up to 22 cores only.
Ample Amount of Storage space
Dell R840 server supports maximum storage of 199TB with up to twenty-four 2.5" SAS and SATA (SSDs and HDDs) drives and with up to twelve NVMe (Non-volatile memory express) PCIe (peripheral component interconnect express) SSDs maximum of 184.32TB or up to twenty-four NVMe PCIe SSDs with a maximum of 153TB. You can easily address your storage challenges with the help of this Dell rack server. .
High in-built Memory
The Dell EMC PowerEdge R840 server supports a maximum memory of 6TB and speeds up to 2933MT/s. It can address up to 48 DIMMs which are of DDR4 standard. Dell R840 supports RDIMM (Registered DIMM) and LRDIMM (Load-reduced DIMM). RDIMMs are the best choice for greater performance and LRDIMMs, on the other hand, deliver high speed at higher capacities. Dell R840 supports registered ECC DDR4 DIMMs only which helps in automatic detection and correction of memory errors. .
Intelligent automated Remote Management
Dell PowerEdge R840 is furnished with Dell EMC OpenManage technology which is responsible for the management of hardware. It also aids in delivering the utmost performance and automation. With Dell R840, tasks can be managed easily due to automated maintenance. Intelligent automated remote management technology- enabled in this Dell server monitors IT infrastructure, networking and storage and also helps in navigating to tasks easily and quickly. Dell R840 supports iDRAC9, which helps in remote server administration. .
Best Pricing Options for Customers
At Cyberwala, we offer servers at affordable prices. You can buy Dell PowerEdge R840 server at a very low price. This R840 server is equipped with high-speed processors and hard drives, and you can enjoy such amazing features at reasonable prices. We provide different pricing options and best deals to the customers such that there cannot be any burden on the IT budget. .
Free 24/7 support
Cyberwala is known for friendly customer support. We offer assistance from our expert team at any time of an hour. You can reach out to us for queries related to placing a new order, billing, delivery etc. Also, there are certified professionals who will help you with your issues related to performance, memory and power. If you face any issue with the Dell PowerEdge R840 server, you can contact us anytime via phone, email or chat. .
Fast delivery at your doorstep
Once the payment is completed from your end, we ensure that you receive your Dell PowerEdge R840 server on time and in great condition. There is no doubt that the product will be safely transported as we take precautions During packaging and sealing. Though challenging, on-time delivery is facilitated by cyberwala. We deliver the products to even remote places which are near to cities like Ahmedabad, Bengaluru, Chennai, Mumbai, Noida and other places.
3-year warranty
There is a 3-year manufacturer warranty for the Dell EMC PowerEdge R840 server. This 4-socket rack server is free from defects. If you face any, reach out to us, and we will repair and restore back to the normal. If you come across any issue with any part of the server during the warranty period, you can claim replacement without paying extra.