Description
HP brings a versatile single-socket server that can deliver the performance and efficiency of a double-socket server for various workflows. Here's the HPE Proliant DL325 Gen10 server, powered by second-generation AMD EPYC processors, designed to smoothly deal with virtualization and high-performance computing. The 1U rack server has in-built security features like iLO, Silicon Root of Trust, and an option for secure boot, virtualization, and memory encryption. It has advanced features like HPE Infosight which detects problems and analyses data, and the iLO5 management system that automates management. It also has the HPE foundation that helps resolve hardware or software troubles. Reliable and flexible HPE servers are now on sale at Cyberwala at unmatched prices and for free installation. Give us a call today and get a quote.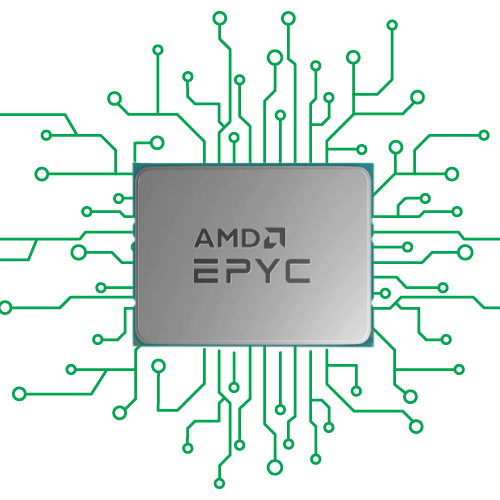 Versatile 1U Rack Server for I/O-intensive Workloads, Virtualization
HPE Proliant DL325 Gen10 is a suitable choice for virtualization and I/O workloads because it provides faster-processing speed, expandable storage options, good DDR4 memory and supports various operating systems. Even as a single-socket server, this gen10 HPE server is capable of handling data-intensive tasks efficiently.
Single Socket for AMD EPYC processor
HPE Proliant DL325 server's core is powered by AMD EPYC 7000 series, supporting up to a maximum of 32 cores for powerful compute and high application performance. Get the AMD processor of your choice and get dual-socket work efficiency from this 1P server.
High-speed DDR4 Memory
Experience faster-working speed and performance put forth by the HPE DL325 server. It has DDR4 memory running at 266MT/S, with extremely scalable 16 DIMM slots. Coupled with the super-efficient AMD EPYC processor, it provides high-class performance even as a single-socket server satisfying higher application speed and processing.
Choice of SFF and LFF Drives for High Storage
HPE Proliant DL325 server offers high storage that is expandable to serve your future needs. It's configurable with 4 LFF or 8 SFF SATA, SAS hotplug SSDs or HDDs with options for optical drives, or up to 10 NVMe drives providing varied storage capacities from 20TB, 24TB to 153TB.
Supports Different RAID Controllers
This HPE Gen10 server supports software, essential, and performance RAID controllers of HPE SmartArray modules like E208i, P408i-a, P408e-p, etc. The software RAID capabilities are supported by S100i Smart Array Controllers that operate in UEFI mode and a maximum of four devices can be connected to it.
Integrated Management with iLO
An advanced and efficient management system is embedded into the HPE DL325 server as HPE iLO5. This allows Instant provisioning, remote server management, and reporting, and provides service alerts and notifications. There's HPE OneView which automates tasks like computing, storage, and networking, simplifying day-to-day tasks.