Description
Need a server to stabilize your IT infrastructure and meet the ever-growing demands of your business? A redefined HPE Proliant DL385 Gen8 server is here to accommodate your heavy workloads, virtualization, cloud technologies, and much more. This is a 2U form factor server, boosted by dual AMD Opteron processors to support extensive computing. The processing is also supported by DDR3 DIMM smart memory and scalable storage options with additional 6 PCIe slots and 8 USB ports. It supports various operating systems like Microsoft, RedHat, SUSE Linux, VMware, and others. Other features of the server include easily serviceable chassis and components and saving in power usage through 3D array temperature sensors for cooling and HP Common Slot platinum plus power supplies for automated power provisioning.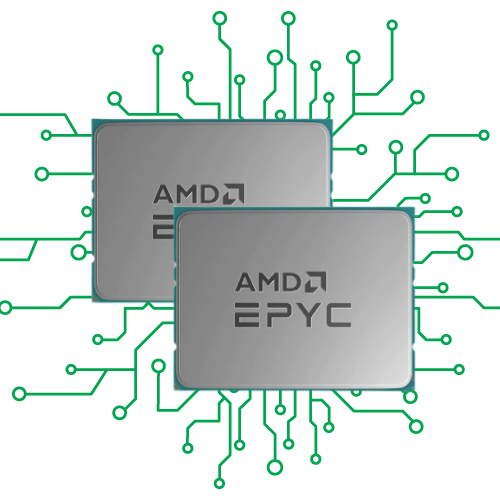 2U Rack Server with Customer-inspired Design
Along with user-friendly features like easily assembled components, tool-free sliding rails, quick-release levers, and SmartDriver, the server brings scalability in terms of storage and memory. The Smart Array P420i controller offers better protection and capacity. Better networking is achieved with the HP FlexibleLOM adapter and improved serviceability through the modified baffle and streamlined cabling.
Features Dual AMD Processors
High performance is delivered by the powerful AMD processors with the highest core density and multi-threading to support efficient virtualization and computing. Proliant DL385 can be configured with dual AMD Opteron processors from the 6200 0r 6300 series. The server can be configured with processors having 4,8, 12, or 16 cores.
Suitable for Virtualization, Database and High-compute Workloads
HPE ProLiant DL385 server provides unmatched performance and efficiency to suit the operations of various workloads. Integrated strong AMD processors, smart memory modules, and expandable storage options make it suitable for cloud computing, faster virtualization deployment, machine learning, and any kind of HPC and database management.
Advanced ECC DDR3 SmartMemory
Advanced ECC is an integrated memory protection feature that detects and eliminates data corruption. It offers better reliability and supports up to 24x 32GB DIMM slots with 1600MHz speed and a total of 768GB internal memory. HP Proliant DL 365 gen8 server supports UDIMM, LRDIMM, and RDIMM memory modules.
Supports Various Drives and up to Six PCIe Expansion Slots
HP Proliant DL385 can be configured with SFF drives with configurations 8,16 (8+8), 25 or LFF drives with 8, 12 configurations while being compatible with SATA, SAS, hotplug SSDs, or HDDs.This gen8 HP server can match your growing storage demands with six available PCIe Gen2 slots for expansion.
Management Capabilities and Feature Flexibility
Intelligent and automated server management is offered by HP iLO4 embedded into the HPE DL385 server. Server alerts, remote support, and daily management are simplified throughout the server lifecycle. Monitor and record server health, and get alerts without any OS through HPE's agentless management. Deploy virtualization and configure instantly through HPE's Intelligent Provisioning.