Description
Do you need a powerful and dense server that is suitable for your consolidated and virtualization business environments? Choose the Dell PowerEdge R410 1U rack server that comes with a dual-socket configuration to provide better compatibility and flexibility. It is an ideal option for space-constrained environments and running compute-intensive workloads like HPC, virtualization, etc. The efficient power supplies and Intel Xeon CPUs are installed within the chassis to deliver maximum processing capabilities and speed with reduced power consumption. It supports SAS/SATA HDDs or SSDs providing scalable storage, and virtualization technologies that offer cost savings and increased availability. iDRAC7 allows management of the server functionalities remotely. Get this server from Cyberwala at an affordable price and enjoy free technical support and instant delivery across India.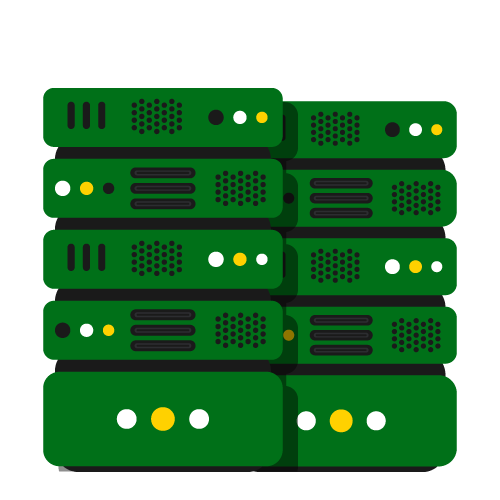 Highly Dense 1U Space-saving Rack Server
The 1U Dell R410 server can be ideal for working environments with small space because of its compact design. These slim devices are the perfect choice for deployment in locations where the geographic footprint is limited. The dense rack server enables high scalability, without compromising the performance.
Suitable for Compute-intensive Applications
Dell PowerEdge R410 rack server is a great option for compute-intensive workloads as it has high-end features and capabilities including an HPCC software stack. The server features optimum chassis configuration for data centers and HPC environments. It comes with simplified management and customized designs to meet all your business needs. 
Powerful 2-socket Intel Xeon CPU Performance
Dell PowerEdge R410 rack server supports up to two advanced Intel Xeon 5500 and 5600 series processor with four or six cores. The server is designed especially to maximize the performance across various applications, including traditional and modern IT workloads, virtualization, and cloud-native workloads. 
Designed for Usability and Energy-efficiency
Dell R410 server features robust power supplies, innovative system-level design configurations with thermal and power management, and standards-based Energy Smart components. These technologies enhance energy efficiency across the high-tech data centers while increasing the overall system performance based on your business requirements leading to improved usability and productivity.
Supports Advanced Virtualization Technology
Dell PowerEdge rack server supports different virtualization software like VMware vSphere including ESX and ESXi VMware 3.5 and Red Hat Enterprise Virtualization. They provide a cost-effective solution to provide effective virtual machines and use the resources optimally. It consolidates the virtualized infrastructure with improved management and security.
Great Storage Capacity with different Drive Options
Dell R410 PowerEdge server comes with two different storage chassis that allows you to select either an 8-bay with 2.5'' hot-swap drives or a 4-bay with cabled or hot-swap 3.5'' drives. It supports SAS or SATA or hybrid SSDs and HDDs, offering a maximum storage capacity of up to 12 TB.
Integrated Management Capabilities
The integrated Dell Remote Access Controller (iDRAC7) of the R410 server provides comprehensive system management services to manage the server operations from remote locations. It is also available to use the Express or Enterprise license management tools and the  Lifecycle Controller with a range of management operations, including diagnostic capabilities, OS installation, etc.