Description
Are you searching for a high-end server that should provide excellent performance in the applications? Then, choose the Dell PowerEdge R640 Rack Server from Cyberwala and offer various features with performance configurations that suit any environment. The dual CPU rack servers serve as an ideal solution for effective maintenance of data centers. Dell R640 is well suitable for high-end business applications, including cloud or analytics workloads. You can quickly achieve business objectives with the improved computing using the Dell Rack Server because it embeds Intel Xeon processors and supports the storage drives like NVMe HDDs and SSDs. However, it's easier to meet the business demands by incorporating PowerEdge R640, a scalable memory of DDR4 with 24 DIMM slots. The monitoring of operations could be possible with a Dell server's exploitation due to the advanced and manageable features and data security, and high-performance computing.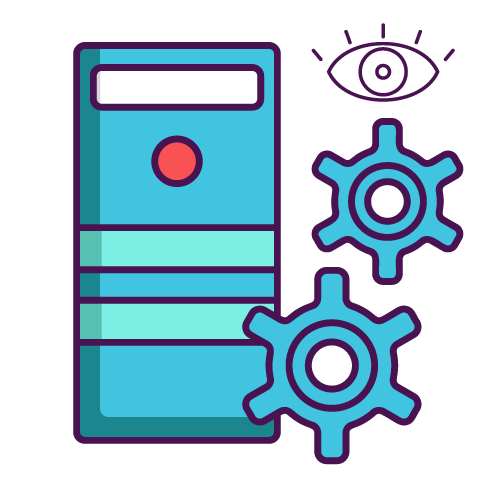 Ideal For Data Center Computing
Dell PowerEdge R640 adapts to the modern data center as an ideal solution especially offering comprehensive protection to secure the data. The business needs could be satisfied with the simplified and manageable critical environment in and around the data center. Dell server manages to deliver optimized solutions for computing the IT operations at high-end data centers.
Boosted by Intel Xeon Scalable CPUs
PowerEdge R640 Server is designed to handle the workloads of different enhanced applications by supporting an Intel C620 chipset that can enable up to two 2nd Gen Intel Xeon CPUs, a total of 56 cores for efficient processing of operations. The server is exclusively for virtualization, service providers, and dense private cloud.
Supports HDDS, SSDs & NVME Drives
If you need extensive storage for operating business services, Dell R640 Server is the right choice as it provides a range of storage options with the support of drives such as NVMe PCIe SSDs and HDDs, i.e. SATA, and SAS. A massive amount of data can store in one place instead of depending on multiple locations.
Recommended for Data-Intensive Applications
Do you require an efficient server for your business applications? PowerEdge R640 is suitable for cloud applications or analytics with robust memory and storage. Dell server maximizes the performance of applications for dense scale-out computing. It secures the data and prevents unauthorized actions from enhancing the server output through the cyber-resilient architecture.
Scalable Memory with High Transfer Speeds
Dell R640 Rack Server architecture features DDR4 memory up to 2133 MT/s and 24 DIMM slots. The server includes 24 memory module sockets with a minimum RAM of 4 GB to the expandable RAM up to 768 GB. You will be able to run multiple applications quickly and boost their performances and reduce latency.
Advanced & Secure Management Features
The management-related tasks performed automatically using Dell R640 that embeds with an iDRAC9 remote controller to monitor the operations based on its advanced features. Using OpenSync2 wireless technology, administrators can efficiently deal with the server system locally or remotely without compromising the data security, enhanced optimization, and efficient performance in making business decisions.