Description
Refurbished Dell PowerEdge R430 Rack Server is created for infrastructure scale-out, Web Tech, and High-Performance Computing. Its Compact 1U Form Factor is designed for those environments that demand Top Dual-Socket CPU performance, Short chassis depth, and big internal storage capacity. Dell R430 Server is Excellent for Site security, Productivity Applications, Collaboration, and Surveillance or as a Dedicated Backup or Development Server. Obtain Dell R430 Rack Server Fully PowerEdge with original equipment from Cyberwala. Buy it at a fraction of its original price.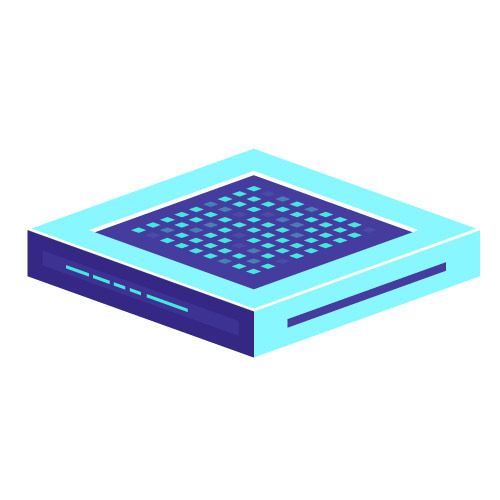 Ideal Investment in 1U Entry-Level Server
Small and Medium Scale Businesses will find the Used Dell R430 Rack Server to be an ideal investment for its 1U Form Factor with only 24 inches Depth and it houses a Full-Fledged Hardware Pack that includes High Memory Capacity, Dual Intel Xeon E5-2600 V4 CPUs, and plenty of storage options. This 1U Entry-level Server is ideal for centralizing Files and Controlling Critical information.
Pre-Sales Guidance For Best Deal
Cyberwala is known to offer the sweetest deals on the market. We provide Pre Sales support to help you get the best deal for your money! Talk to our Sales team and get guidance on which Server configuration suits your Workload the best.
Best Suited for SME & Start-up Businesses
Refurbished Dell PowerEdge R430 Rack Server's compact 1U chassis partners a Powerful Specification with Great Expansion potential that will be useful for both Enterprises and SMBs alike. You can employ powerful performance in limited space environments with the 1U R430 Rack Server that has a short height of 1.68 inches and a Depth of just 24-inch chassis. With a maximum of 384GB of RAM and 18TB max Storage, Dell PowerEdge R430 is an ideal server for SME industries and start-ups with limited but growing data. With the Used Dell R430 Server, you can easily get accustomed to Ever changing Work environment. Start-ups and SMEs can make use of its features like the Latest Processor, Easy Use, Virtualization, Expandable Memory, and Storage Capacity.
Compatible with Intel Xeon E5-2600 V4 Family
Drive powerful performance across a wide range of work environments with the Intel Xeon E5-2600 v4 Processor Family. You can select a CPU from the list of Intel Xeon E5-2609, E5-2620, E5-2630, E5-2640, E5-2650 in the 4th Gen family for your use Dell R430 server. There are multiple options to choose from 20, 18, 16, 14, 12, 10, 8, 6, and 4 cores depending upon your usage of the machine. Each core has a Cache Memory of up to 2.5MB bringing the Total Cache Memory Capacity to 50MB at Maximum. Save your Money by deploying a Single Server and running multiple processes on the Dell R430 Powered by the Intel Xeon E5-2600 V4 family.
High Storage Capacity & Scalability
Dell R430 PowerEdge Server has 4 Storage Drive bay option. The options to be selected are as follows: 2.5" x 10 drive bays of hot-plug drives, 2.5" x 8 drive bays of hot-plug drives, 3.5" x 4 drive bays of hot-plug drives, and lastly 3.5" x 4 Cabled Drive bays. You can expand the internal storage up to 18TB maximum which is enough for a Start-up or a growing Educational Institute and SME Businesses. You can start from just 300GB and scale up to 18TB when your Storage needs increases.
Works Well on Development & Virtualization Deployment
Through the Refurbished Dell PowerEdge R430 Rack Server you can easily create multiple VMs and allot them to various users. All you need to do is install a Hypervisor of your choice from VMware, Microsoft, or Citrix Create Virtual Machines & then deploy them to Respective users. Create up to 72 VMs with a single Second Hand Dell R430 Rack Server powered by Dual CPUs. Use the Dell R430 for Application Development and Testing purpose & it will work flawlessly without any trouble. Dell EMC Servers are the most Productive, Reliable, and Cost-Effective.
Remote Tech Support Available
No matter where you're in the country, Cyberwala will support you 24 hours a day. Where ever you go, our service follows. We offer Tech Experts valuable Support for any problems you face and address your grievances in the speediest manner.
Quick Dispatch from Cyberwala
We treat your orders on a priority basis. Expect Safe Packaging, Lightning Fast dispatch, and On-Time Delivery through Cyberwala. Your Dell R430 PowerEdge Server is our responsibility until it reaches your desired address. We take utmost care of your package.
Certified & Assured Warranty
We provide the added advantage of a Certified and Assured warranty. Nothing is Fool-proof in the tech world, so having Authentic 3 Months Certified Warranty is important so as not to incur losses in your business. Cyberwala provides you with the same.