Description
Do you plan to upgrade your server to run data-intensive workloads with integrated security for data protection? If you are looking for a server with embedded system management capabilities, the Dell PowerEdge T640 Tower Server can fulfill all your firm's needs very easily and efficiently. It offers accelerated performance for heavy data workflows like database management, cloud computing, data mining and warehousing, e-commerce, and other high-computing applications. It provides you with excellent storage capacity with hybrid drive choices. It is highly adaptable and scalable to handle end-performance tasks. It also offers integrated security management for data integrity. And you can get this powerful server easily from Cyberwala anytime. Along with quality products, we also offer premium customer service 24/7 to all our customers.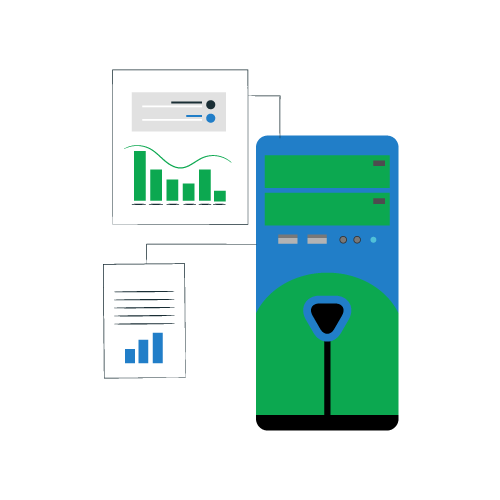 5U Tower Platform with Rack Capability
The Dell T640 server is a tower that can be converted into a 5U rack server. It offers some of the best features and technologies for both platforms. The server delivers fast processing and raised I/O and storage capabilities. The flexibility of the 5U PowerEdge T640 makes it the best choice for growth-oriented companies.
Adaptable, Scalable Server for Data-intensive Workloads
The highly adaptable and scalable Dell T640 tower server is the right fit for data-based workloads. It can scale up memory and storage resources for growing needs, provides multiple expansion slots, and delivers quick insights with a maximum of 8 NVMe drives and 10GbE dual network ports.
Supports Two Sockets for Intel Xeon Processors
High processing power is very crucial for fast business growth. The Dell PowerEdge T640 server supports up to two really speedy and powerful 2nd generation Intel Xeon processors. It is mostly the first choice for high-end business applications. The server supports up to 28 cores per processor to offer high-speed computing capabilities.
Excellent Storage Capacity with Hybrid Drive Options
The Dell T640 server even fulfills your high storage demands. It supports up to 8 or 18 SAS/ SATA HDD/ SSD of 3.5 inches with the storage of 216 TB. It addresses huge data growth with a maximum of 32 drives of 2.5 inches and 8 PCIe slots.
Integrated Security for Data Protection
With the fast switch towards digitalization, every firm has to maintain data-intensive records. And with data comes the responsibility to maintain its security. A comprehensive and cyber-resilient architecture together with embedded security features like automated updates, configuration lockdown, embedded authentication, etc. offers high protection against any unknown threats.
Embedded System Management Capabilities
The integrated system management features of the T640 server make it a great choice for all organizations. It improves efficiency by utilizing the simplicity and power of iDRAC9 with Lifecycle Controller, embedded in the server, enabling smart automation of day-to-day tasks. You get agent-free, easy server management, and free time to prioritize your business.