Description
Do you need a determined platform for a better reliability focus? Looking for a server that perfectly fits within your low budget? Does your business workload require an efficient server for virtualization applications? For fulfilling all these requirements, count on a refurbished Dell PowerEdge R910 rack server. Cyberwala offers a refurbished Dell R910 server of Grade A quality to offer higher performance. In addition, the support of four sockets makes it ideal for high-end workloads and decreased downtime. With Cyberwala, customize your Dell R910 server as per the required configuration at an affordable price. Buy this exclusive server and grab unimaginable discounts. With the lowest possible price, revive free installation, a one-year warranty, and on-time delivery.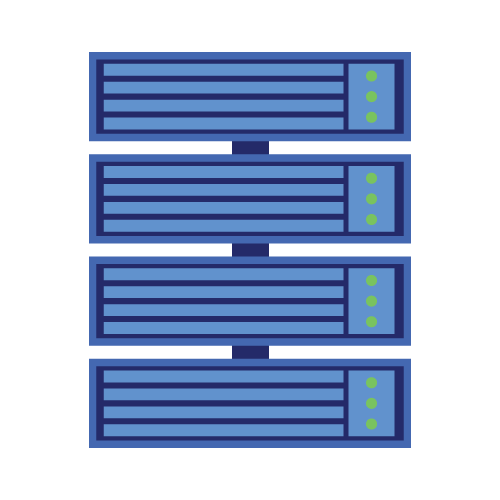 Ideal For HPC & Virtualization
In search of a server compatible with virtualization needs? With the support of four processors, the Dell R910 server offers ultra-fast performance for HPC and virtualization tasks. In addition, with the capability of executing 80 virtual machines at a time, it supports complex software, including VMware and ESXi.
High Performance 4U four-socket Server
Designed with Intel Xeon E7-4800 and Intel Xeon E7-8800 processor series, it offers 30MB cache memory. The presence of Intel QuickPath Interconnect makes it suitable for state-of-the-art communication within the server. With ten cores/processors, execute mission-critical workload smoothly, accessing maximum uptime.
Better Multitasking with Scalable Memory
Do you need a server with huge memory support? Dell R910 Rack Server offers a 2TB DDR3 memory module. With 64 DIMM slots, it offers enhanced memory speed to feature better productivity and multitasking. Choose from 2GB to 32 GB memory modules as per the requirement.
Ideal for Datacenter Colocation
Looking to shift your office from one place to another or another office branch? No matter the requirements, Dell PowerEdge R910 Rack Server is perfectly designed considering colocation features such as reliability, secure infrastructure, 24/7 monitoring, and protection against power failure.
Flexible Storage with Multiple RAID Options
Seeking more storage for transaction processing workloads? With Dell PowerEdge R910 Rack Server, grab flexible storage of 16TB and store abundant data efficiently. Dell R910 rack server is designed with multiple RAID controllers, including PERC H200, and PERC H700, to better data security.
Manage & Monitor from Anywhere
Looking for a server with powerful remote management capabilities? Dell PowerEdge R910 rack server is perfectly loaded with updated management features for fulfilling immense and varying business needs. With the Dell R910 server, get the support of advanced management tools such as iDRAC6 express and Lifecycle Controller chip.