Description
Are you looking for an absolute fit server for your business, having the utmost performance but can't buy a brand new server due to budget issues? Save your expenditure and avail distinct performance for specific applications with our refurbished Dell PowerEdge R820 server. R820 server will cope with your need for a venture-grade server with its extraordinary memory capacity, four processors, highly scalable input-output capabilities, vast internal storage of upto 16TB. All these features make it an ideal server for mid to large-sized businesses. From processors to storage, featuring magnificent specifications, the Dell R820 server handles fluctuating workloads [low to high] with ease providing maximum possible uptime. Cyberwala provides end-users with the option for customization so that you can customize the server as per your needs and business requirements. With us, you get economical Dell R820 servers satisfactory for your altering requirements. You can either buy or rent a server as per your budget and project essentials. Apart from this, you get no-cost installation support and instant shipping throughout India with a 1 Year warranty.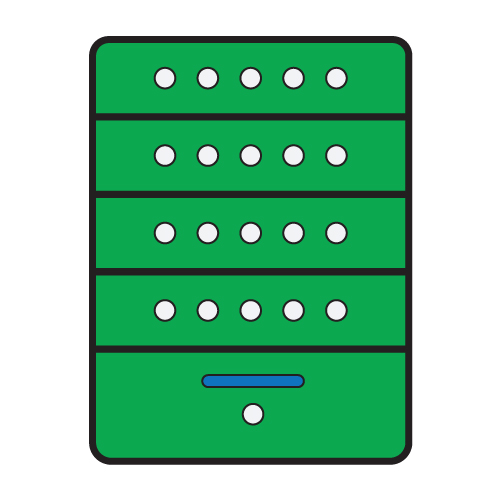 High Performance 4 Socket Server:
If you are looking forward to accelerating your business application performance upto a certain level, then go for a budget-friendly, refurbished Dell PowerEdge R820 server. This well-organized server is electrically powered with up to 4 Intel Xeon E5-4600 processors, supporting 4,6,8 cores with a 2U rack server and upgraded performance. The four-processor socket configuration makes it possible for the R820 server to provide users high performance through lofty workloads.
Suitable for SMBs & Large Sized Businesses :
Do you need a dense server that can manage your big business database efficiently? Precisely designed to handle heavy workloads and provide robust and vigorous performance, the refurbished Dell PowerEdge R820 server endorses up to 4 Intel Xeon E5-4600 processors. It works on low power consumption, i.e., 750W, 1100W, to offer huge processing power. With large memory and storage capacity, adequate data storage, dual power supply, remote management support, R820 furnishes all needs for SMBs to large-sized businesses at an affordable price.
Build Virtual Desktop Infrastructures:
With the R820 server's huge memory footprint, you can easily broaden the company's virtual environment. Besides, you get adjustable fabrics, various I/O options, along with the 32 cores upheld at max. Dell R820 rack server supports four processors, through which you can connect 64 virtual machines synchronously. The server is embedded with optimal technologies to support virtualization, such as system backup and recovery, security, anti-malware feature, risk assessment, and the maximum uptime for the virtual machine.
Best Choice for Storage Demanding Applications (:
The Dell PowerEdge R820 server advances an array of storage options to provide possible storage configuration as per the requirements and demands. The system at max can support 16TB of internal storage. The R820 system is compatible with hot-plug SATA, Nearline SAS, and other solid-state drives. Besides improving the overall performance, it supports internal RAID controllers, including PERC H310, PERC H710, PERC H710P, and external RAID controller PERC H810.
Scalable Memory with 48 DIMM Slots:
If you are looking for a perfectly suitable used server that can provide balanced performance at an affordable cost, best storage capacity in addition to scalable Memory? Then, the Dell PowerEdge R820 server will provide you with the best solution for all requirements. Regardless of the business size, it can provide the required Memory to support heavy workloads and provide the best overall performance. It offers 48 DIMM memory slots with a maximum RAM capacity of 1.5TB, and supported RAM formats are 2GB to 32GB DDR3.
Choose Custom or Pre Designed Configuration:
Does your business require a custom-configured or a refurbished Dell R820 server with a re-designed configuration as per the organizational necessities? Cyberwala comes up with both types of R820 servers, i.e., a pre-configured one and a custom configured one. You can quickly go through our configurations related offerings at pocket-friendly prices. In case our pre-designed configuration doesn't suit your requirements, you can easily get in touch with our pre-sales team and describe your needs to them.
Powerful Remote Management Features:
With Remote Infrastructure Management (RIM), you get the facility to minimize the overall expenditures while you get flexible & faster service. Cyberwala controls regular server operations to protect your organization's critical infrastructure by providing highly secure, reliable troubleshooting, in addition to 24/7 monitoring service. Vast memory capacity and immense storage allow you to handle your high-end applications remotely without any lag, and you can multitask efficiently.
Multilevel Tested Server with 1 Year Warranty:
Cyberwala sells Dell PowerEdge R820 servers that are thoroughly tested and certified by technical experts. The server undergoes rigorous refurbishment procedures and are minutely tested on specific parameters to ensure Grade A quality. We maintain our commitment to provide you with the best quality refurbished servers with a 1-year warranty. If you face any unexpected circumstance during this warranty period, we will resolve it at no extra cost.
Free Installation & 24/7 Remote Tech Help:
Improper or erroneous installations of hardware or operating systems cause malfunctions in the Dell PowerEdge R820 server. It is potentially harmful to both the device as well as the server. To avoid such missteps, the company has an exceptional team of server installation technicians who have expertise in their work. They offer their customers errorless installations free of charge. Our tech experts are 24/7 available to provide you remote support.
Quick & Secure Delivery All Over India:
The company provides its customers with secure delivery all across the country. These servers are most commonly sent to more extensive metropolitan cities like Delhi, Chennai, Mumbai, Noida, Bengaluru, Gurugram, Kolkata, etc. The refurbished Dell PowerEdge R820 server is delivered safely in a properly sealed package at the desired delivery address. The delivery is fast and possible for all cities, big or small.