Description
The HP Proliant DL360 Gen7 server gives you high performance along with impeccable power and cooling management system. Built-in a compact mode for easy space-constrained installations, the server is ideal for any type of workflow management and comes equipped with essential fault tolerance. The number of networking ports has doubled in this server as compared to the previous generations. An impressive energy rating of 92% because of HP's new Common Slot power supplies makes this server suitable for high-workload environments. The performance of this server is several notches up than earlier versions as it comes with eighteen memory slots, and dual processors and has an excellent storage capacity overall.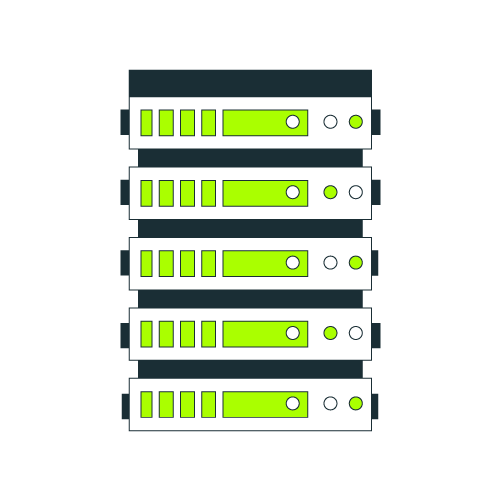 Highly Dense 1U Rack Server
The compact and highly dense structure of the HP DL360 Gen7 server makes it an ideal choice for small office spaces, home or remote offices, and data centers. This 1U rack server has an excellent build offering high-quality and sturdy exteriors that make it a durable server.
Ideal for General Purpose and HPC Operations
The features of the HP DL360 server make it compatible with both general usages as well as high-performance computing (HPC). As it can hold up to two processors and around 384GB of memory, complex HPC can be done smoothly on this 1U server.
Supports Two Intel Xeon Processors
By supporting two Intel Xeon processors, the HP Proliant DL360 Gen7 server gives a high-class performance. It can support the 5500 or 5600 series of Intel Xeon CPUs, in either four-core or six-core configurations. If lower-cost options are needed, one can go for low-wattage processors that are rated either E or L class.
Excellent Data Storage Capacity
This server supports a maximum of 9.6TB of internal data storage, an excellent capacity for this generation of 1U rack servers. For hot-plug drive bay configuration, one can pick between a 4 SFF or 8 SFF. To the 4 SFF configuration, an additional optical drive can be attached.
Up to 18 DIMM Slots for DDR3 Memory
While mixing different types of memory is not supported on the HP DL360 server, RDIMMs and UDIMMs for DDR3 memory are supported. There are nine DIMM slots in each of the processors installed and for dual processors, 18 DIMM slots are available. The maximum memory capacity of this server is 384 GB.
Integrated Management and Security Features
Power consumption monitoring is facilitated with the management features of this server. The iLO3 software is utilized to maintain proper cooling by sending corrective signals to the fans and also supports the management of the server remotely. Security is fortified with features like power-on password, keyboard password, and QuickLock.