Description
Are you in search of robust servers that can uninterruptedly run your scale-out infrastructure environments? Do you wish for a server that comes with intuitive management and monitoring features to save your time and resources? If it is, then you'll need our brand new Dell PowerEdge R440 servers that are best suitable for your HPC, virtualization, database, and memory-loaded workflows. These Dell R440 servers are designed with impeccable memory modules, rich storage drives, scalable processors, numerous RAID options, and fault-tolerant power supplies to drive and handle your SMBs and HPC workloads. Cyberwala has an eminent collection of these brand new Dell PowerEdge R440 servers that are picked up directly from the manufacturers. You can remotely manage them without any effort. We give our word on the quality and reliability of these servers. Each of our pre-configured and customized Dell R440 servers is tagged with the most cost-effective prices, which are updated frequently, keeping the current market values in mind. Get in touch with us today to know all about our Dell R440 servers and bag the advantages of assured warranty, constant technical support, and fast delivery services.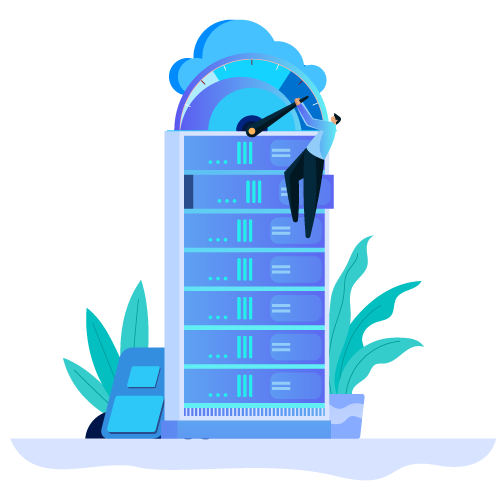 Powerful 1U Server for SMBs :
Shape your businesses and stay competitive by installing our Dell PowerEdge R440 servers. These powerful 1U rack servers are perfect for running your small and mid-sized businesses as they possess the capacity and capability to run your demanding applications with ease and efficiency. This Dell R440 server retains the adaptability to scale up along with frequently changing business demands. It comes with the technology that fits your business requirements and delivers the potential every SMB expects.
Designed for High Performance Computing :
If you are planning to buy a high-quality server that can undoubtedly handle and sustain your high performance computing workflows, our Dell PowerEdge R440 server will certainly amuse you. This server is maneuverer with the most efficient hardware and software that can support any operating system you wish to run on the server. The Dell R440 server is known for providing low latency and higher throughput for any application network your HPC cluster you deploy on it.
Supports Dual Scalable Processors :
In need of high processing speeds to run your workflows for longer durations? Choose the Dell R440 servers that support Intel Xeon scalable processors of either 1st Gen up to 22 cores or 2nd Gen up to 24 cores to deliver the ultimate performance you require. The server can in total avail users with either 44 to 48 cores under dual-processor configuration. Each of these processors is enriched with multiple cutting-edge technologies to offer impeccable support to your diversified workflows.
Highly Scalable DDR4 Memory :
Do you want to own a server that offers huge memory for supporting your workflows? Then you should definitely consider our Dell R440 server that offers a maximum memory of either 512GB or1TB depending on the generation of the processor you employed. You can use 16 DDR4 RDIMM or LRDIMM memory modules that support speeds up to 2666MT/s. Server RAM can be scaled up any time you need, thereby providing you the flexibility to run your loaded workflows.
Reliable Storage with SSDs & HDDs :
Are you looking for a high-end server that can provide you with reliable and flexible storage options? Take a look at our brand new Dell PowerEdge R440 servers that can avail users of maximum storage of up to 48TB by installing 8 NVMe drives or 12 SFF drives. You can mount either the NVMe SSDs, SSDs or HDDs of both SAS and SATA interface in this server to help you to work on any kind of data-intensive workflows.
Best Remote Management Features :
Managing your server is not a hassle anymore. Cyberwala highly recommends choosing this magnificent Dell PowerEdge R440 server that comes with iDRAC 9.0 with Lifecycle Controller and OpenManage Essentials to deliver the best management features, using which you can handle your server either remotely or on-site. You can know about your server status, monitor it at all times, troubleshoot issues easily, receive alerts, update, manage, and control the server with just an OpenManage mobile app.
Buy Customized or Pre Built Configurations :
Why settle for anything less while you can get yourself a server built of the exact configuration you are looking for? Cyberwala has a huge collection of pre-designed Dell R440 servers that are engineered with top-quality hardware components keeping in mind the major requirements of server holders all around the world. In case we fail to pre-design one that matches your needs, approach our technical team and state your requisites to get the Dell R440 server customized immediately.
Free Hardware Configuration & Tech Support :
Do you need some assistance in installing our Dell R440 servers? Seek help from our technical support team, who are available round-the-clock to assistance to your needs. They will walk you through the entire hardware installation process and confirm that the server is installed properly. The problem-solving methods of our technical team are completely transparent and facile. The team will be just a call or text away and will respond to your concerns and questions in a timely manner.
Quick Doorstep Delivery in Secure Package :
We understand how much you long for your servers. Cyberwala offers excellent delivery services to all its customers. The Dell PowerEdge R440 server you order will be wrapped in multiple protective sheets. Upon sealing the packed server in firm corrugated boxes, we hand them over to our reliable delivery agents who are well known in the entire country for their secure and fast delivery services. They will drop-ship your server to your doorstep in less than 3 working days.
3 Year Seller Replacement Warranty :
Cyberwala offers excellent warranty plans on all its servers. Our brand new Dell R440 server is backed up by an assured seller warranty of 3 years. Any issue you encounter with our Dell R440 servers in this 3 year period will be taken care of by us. Our team will find the root cause of the server dysfunctioning and immediately replace the faulty part with high-quality spares. We ensure that the replacement reaches you without any delay.