Description
Get yourself a reliable, secure, fast and efficient hosting platform to manage your sites, servers and business with our dedicated hosting services at the cheapest price. Cyberwala offer finest dedicated hosting plans confining all its resources exclusively to a single customer. All the dedicated hosting servers are selected from tier 4 data centers and are equipped with cPanel and WHM interfaces to simplify the site management. This user friendly WHM helps users to easily create and manage as many as cPanel accounts which inturn helps users to easily access a wide range of cPanel modules. Users can easily make the best use of these WHM and cPanel interfaces. Cyberwala offer enhanced protection to all its hosting websites by protecting the dedicated hosting servers with firewalls. Our scalable hosting plans with WHM cPanel that use dedicated resources aim to deliver 100% uptime and high-speed performance to the website by using unlimited bandwidth. Any user from beginners to experienced developers can make the best use of our hosting plans. Contact us to know all about our hosting plans that come with 24*7 technical support at the cheapest prices in the hosting world.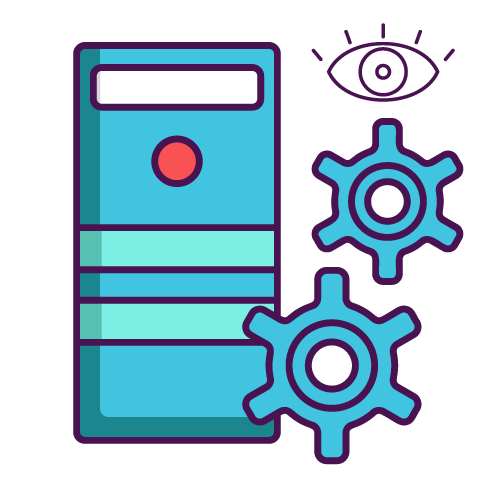 Jet Speed Performance
A few seconds delay can be a great step back to your web page as it affects your SEO and conversion rates. Cyberwala host its websites on high speed optimized servers that deliver faster turbo speeds to scale up your web performance. The dedicated servers we use for hosting are specially designed to improve the responsiveness of the web host manager and cPanel thereby giving users the control and flexibility they need at all times.
100% Network Uptime
Uptime is an important factor to consider when you decide to utilize any hosting services. Any downdrifts in uptime can seriously affect your website performance however big or small your business is. Cyberwala guarantee 100% uptime to all your websites by ensuring that there are no server failures and errors. Our technicians constantly monitor the power supply of the dedicated servers to enable best hosting services to all our customers.
Dedicated Resources
Enriched with high memory and storage capabilities, the dedicated servers also support cPanel and WHM system code packages to enable users a complete access to the servers that host the websites. Cyberwala provide exemplary hosting services that come with dedicated resources which aid you in developing your website, applications and software. These dedicated resources will be available to the users at all times to deliver faster turnaround times while saving your project costs.
Scalability
Our dedicated hosting services are completely scalable and allow users to easily add or reduce the storage, memory, bandwidth and other system resources as their websites demand. Users can easily access the cPanel and WHM to monitor, launch and manage your network while transferring and protecting their data within just a few clicks. With our enterprise-level dedicated servers, we enable complete access to our customers which helps their site prosper with increasing traffic.
High-Level Security
It is natural that websites are often prone to threats and attacks. Cyberwala offer high security to all its hosting websites by employing a firewall security to our dedicated hosting servers to eradicate any trojans and malwares that might attack the system. The sites hosted by Cyberwala are protected by SSL certificate to facilitate safe and secure data transmission. We constantly monitor the websites' traffic to block any keyloggers that intend to harm your website.
Free Technical Support
New to the hosting field? Don't worry. We are with you. Cyberwala offers constant technical support as a complimentary service for all the users who utilize the dedicated hosting services. The WHM and cPanel can be easily accessed by our customers. If you have any doubts or face any issues in hosting services we provide, you can contact us through call, whatsapp, mail or live chat. Our team will respond and resolve your issues within no time.
Hosted in Tier 4 DC
Cyberwala opt for tier 4 data centers for all their dedicated hosting services. These fault tolerant data centers aid us in providing complete availability to our hosting websites even during unexpected device failures as they have 2N+1 infrastructure which offers immediate backup in such uncertain situations. Built with high quality servers augmented with redundant power supplies, excellent memory and storage features, these tier 4 data centers promise utmost reliability to all the dedicated hosting sites.
No Limit on Bandwidth
Why worry about throttling when you can enjoy smooth and uninterrupted site performance with our dedicated hosting services? Cyberwala put no limits on bandwidth henceforth you don't have to fear about website crashing or buffering even under heavy traffic conditions. We believe and stand by the principle that a successful hosting platform supports you unconditionally even under constant pressures. We guarantee unlimited bandwidth at all times for a sustained flow of traffic on your website.
Free Hardware Installation & Tech Support
No matter if you are a pro at hardware installation or a new bee, our technical team provides technical support and assistance for hardware installation. We provide free hardware installation at the office for specific locations. Our professional tech team is 24/7 available to provide you with the installation counsel. We initially pre-install the workstation as per the required configuration and then deliver it to ensure proper working. You have to perform the necessary installation and wiring part under our tech team's guidance.
Tested Workstations with Warranty
Expert engineers at Cyberwala rectify the refurbished Dell Precision T7910 Workstations following rigorous performance and quality tests. Every central component, such as graphic cards, the processor, memory modules, hard drives, disks, are minutely inspected. All the refurbished workstations are precisely tested to ensure that they deliver high performance similar to the new ones. We back the T7910 workstations with a 1-year warranty. This warranty is specifically for the spare parts of the workstation, and it comes into action from the day of purchase.