Description
Designed to Fulfill diverse Applications in Databases, Extreme Virtualization, and High-performance computing, HPE ProLiant DL360 Gen10 Rack Server is worth the buy Server. Even though densely packed for the space-constrained environment, the affordable HPE DL360 Server can be used for a wide variety of demanding applications. Supports Non-Volatile Hard Drives, Extra storage capacity with pneumonic Drive Cages, persistent DIMMs, Faster Memory, and many more features. HP ProLiant DL360 Server comes at a very low price only at Cyberwala.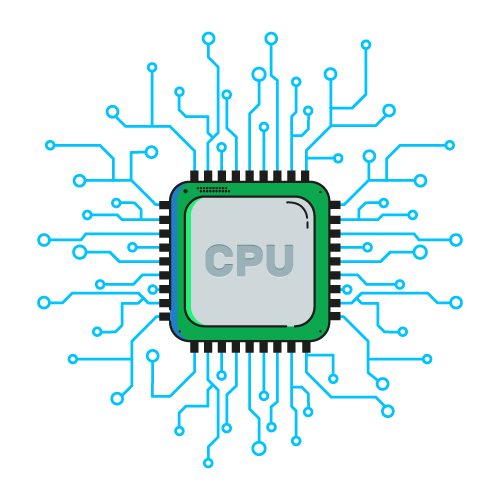 Latest Gen10 Server from HP Enterprise
With Great security Features, unmatched expandability, and agility, the 1U chassis Rack Server is equipped with 2 Processors specifically designed to deliver higher performance. With enhanced RAM capacity and storage options, the 10th generation HP DL360 Server comes with Great scalability features and offers Good Returns on Investment.
Boosted by Intel Scalable CPU series
The HPE ProLiant DL360 Gen10 Rack server supports brand new Chipset C621 which can accommodate a range of processors. Businesses can choose from Platinum, Gold, Silver, and Bronze Intel Xeon Scalable Processor Families with Core Count Rating from 4 to 28 and increase in the cache. The socket supporting the processors in HPE DL360 Server is substantially large as compared to the previous version of the HP DL360 server.
Innovative Storage Options
Mix and Match the Storage devices to fulfill your unique workloads with the HP DL360 server. The HPE ProLiant DL360 Gen10 Rack Server comes with 4LFF SATA/SAS/SSD drives, 8 SATA/SAS (HDD/SSD) drives, and 10 premium NVMe PCI express SSD drives. With Hot-Plug SFF SAS HDD/SATA, HP DL360 Server provides a storage capacity of up to 26.4 TB. With Hot Plug SFF SAS/SATA SSD, the Server offers a Storage capacity of up to 168.3 TB. With Hot-swap LFF SATA/SAS (HDD/SSD), you can expect a storage capacity of up to 48TB. The Hot-Plug SFF NVMe PCI express DL360 provides a storage capacity of up to 76.8TB.
Smooth Performance for All Workloads
With 24 DIMM slots onboard, the Future-Ready investment-proof HP DL360 Server comes with LRDIMM modules that provide a Memory Capacity of up to 3.0TB, RDIMM module that offers a maximum memory capacity of up to 768GB, and NVDIMM modules that provides a memory capacity of up to 192GB at a memory speed of 2666 MT/s. This Scalable Memory Capacity is ideal for handling even the demanding workloads.
HPE iLO 5 Management and Firmware Security
HPE ProLiant DL360 Gen10 Rack Server comes with a 1GB Dedicated iLO Remote Management port. Frequently monitor the server for ongoing management, detailed reports, and remote management. Get service and issue alerts with the help of an inbuilt iLO 5 port. Get more secured configuration and better manageability while you interact with your HP DL360 Gen10 server during boot time with Unified Extensible Firmware Interface (UEFI).
Ask for Detailed Quotation
All you need is Great Sales Support so that it can make your Server Shopping easier. We have an active Sales Team available through live chat on our website, where you can chat with them and know more about the HPE ProLiant DL380 Gen10 Rack Server, the kind of configuration needed and that fits in your IT budget. They will provide you with detailed information and help you purchase the right Server
Custom Configuration Available
The HP ProLiant DL380 Gen10 Rack Server is fully Customizable and Upgradable. You can upgrade the Server as per your choice and according to the demand of the growing business i.e. the RAM size, Storage, No. of Processors, etc. can be increased. As your business expands, the Server Upgradation is so important for the smooth working of the Business Applications. Therefore, at Cyberwala we will provide Full Support in the Upgradation Process.
Free Delivery Across India
As soon as your order is confirmed, we will make sure that your HP ProLiant DL380 Gen10 Rack Server will be packed securely with Multiple Layers of packaging before it is out for dispatch. We know your worthy investment and therefore always take care of the Server with Secure Packaging. Free shipping will be done to all the Tier one and Tier two cities like Hyderabad, Coimbatore, Mumbai, Chennai, Mysore, Jaipur, etc.
3 Years On-site Warranty
Buy HPE ProLiant DL380 Gen10 Rack Server from Cyberwala and Get 5 year Warranty Services. Isn't it the best offer? Yes, indeed. We provide any kind of Server Parts replacement if they fail to work during the Warranty Period without charging any amount. You can Claim for the Warranty Services by informing us as soon as possible.