Description
Dell PowerEdge R230 server is 1U single-socket server that is powerful, versatile with excellent performance driven by the quad-core Intel Xeon E3-1200 v6 processor family, fit for small businesses. Cyberwala provides you with high-performance rental Dell R230 servers at the lowest prices in the market. Amplify your application performance with expandable memory and deploy your operations at a faster speed with Dell R230 making it a suitable option for SMBs and enterprises. Dell PowerEdge R230 rack server specifications also include two PCIe 3.0 slots, simplified management with OpenManage, an array of HDDs and SSDs are also supported by the rack. Dell R230 power consumption is made possible with a 250 W AC non-redundant power supply unit. If you're looking for an affordable Dell R230 configured to your application requirements, Cyberwala offers you the best deals on R230 server rentals with instant shipping and 24×7 technical support.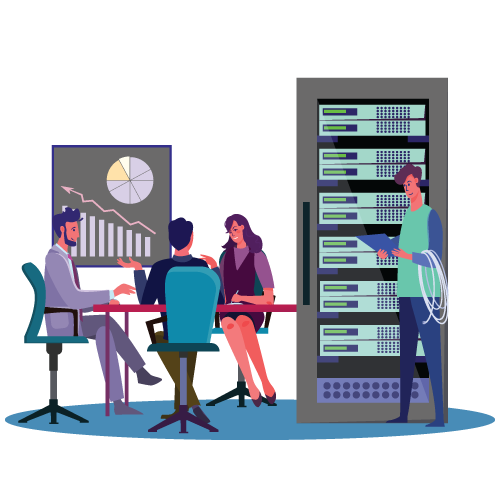 Perfect Choice for SMBs and Branch/Remote Offices
Accelerate data throughput and compute, and drive applications faster with  Dell PowerEdge R230 RAM scalable up to 64GB, an array of hard drives, two PCIe 3.0 slots to boost I/O based applications and performance, all this by consuming less power. Cyberwala tailors the server as per your business requirements under your budget and is perfect for SMBs and ROBOs.
Excellent Performance with Intel Xeon Processors
Cyberwala hosts high functioning Dell R230 servers with the latest Intel Xeon processors E3-1200 v6 with four cores to boost the server performance. It also has an adaptable dual-core processor with Intel Core i3, Pentium or Celeron. Dell R230  supports a wide range of applications that allows you to be more productive with improved response time.
Greater Memory Capacity than previous Generation
R230 is a 1U rack server with an expandable memory capacity of up to  64 GB with 4 DIMM slots. It's 50% faster than the previous DDR3 which is 12.5% quicker than the earliest DDR4 with 2133 MT/s speed. Greater memory capacity drives enhanced application performance and faster output.
Accelerated Application Performance
Dell R230 can run all types of applications smoothly with a memory speed of 2400 MT/s. It responds faster with quad-core Intel processors and up to 64GB RAM The computing is also enhanced by 2 PCIe Gen 3.0 that doubles the data output and I/O performance with PERC8 RAID controller.
Versatility and Improved Operational Efficiency
Dell R230 is versatile with its memory and storage, and flexible with different virtualization supporting environments like Microsoft Windows Server, Hyper V, VMware, vSphere, etc. making it adaptable to various workloads. OpenManage Essentials allows auto management of tasks, saves time, and increases the efficiency of the server.
Affordable Rental Plans from Cyberwala
Cyberwala offers Dell PowerEdge R230 1U server for rent at affordable prices, customized under the supervision of an experienced technical team. At Cyberwala, the Dell R230 server prices are offered with best deals that fit your budget. You can have your server instantly shipped and installed without any charges. Cyberwala's support team is available 24×7 to assist you.