Description
Do you search for a well-established server with expansion potential? Then, purchase HPE ProLiant ML350 Gen10 from Cyberwala that supports business operations for small or large enterprises. The dual-socket server features expandability and flexibility for virtualization workloads and improves business outcomes. The HPE Gen10 server integrates with effective DDR4 memory and SSDs to meet the demanding needs with enhanced power efficiency. In addition, it supports implementing high-intensive GPU applications effectively and iLO technology for remote server management and real-time monitoring of server health to focus on achieving the business goals.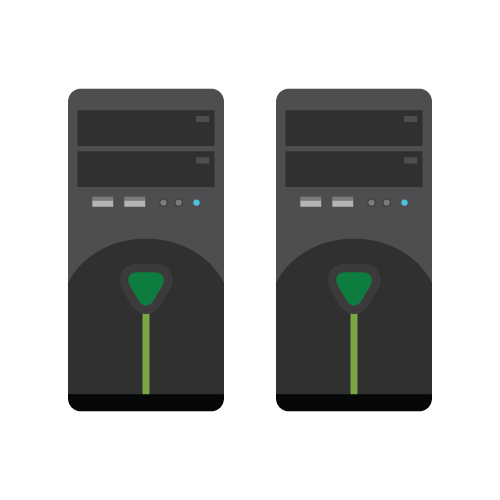 Efficient Server for SMBs & Large Enterprises
The ProLiant ML350 server is ideal for small or medium, or large businesses to meet all challenges for growing needs. It has scalability that allows maintaining unlimited servers in a network with improved performance without compromising on efficiency.
Powerful Dual Socket Tower Server
The tower server comes with a dual-socket infrastructure to deliver performance with reliability and expandability. In addition, it gives the flexibility to adapt to the changing environment for growing businesses drastically and ensures superior VDI and machine learning applications.
High-Speed DDR4 Smart Memory
The efficient HPE Gen10 server can support DDR4 memory with 24 DIMM slots and a memory speed of 2600 MT/s. As a result, it reduces server downtime and provides data security while increasing power efficiency and workload performance.
Reliable Server with Huge Storage
The HP G10 tower server gives extreme storage options by supporting 8 to 24 SFF or 16 SFF integrated with 8 NVMe PCIe SSDs. The server improves productivity by fulfilling the daily demanding needs for business expansion.
Suitable for Rendering & Virtualization
The robust HP server allows running virtualization and rendering applications with efficiency. In addition, it features remote management and monitoring services that improve server uptime and business functioning—the allocation of more bandwidth provided to obtain high performance.
Wide Range of GPU Options
Suppose you want to process high-end GPU applications like data surveillance and security, etc. In that case, it's better to deploy the HPE ML350 Gen10 server in your business, and it supports up to four units for efficient performance.
Embedded with ILO for Remote Management
You can easily manage this HP server with its iLO management service, enabling the management without an agent, Active Health System, and intelligent provisioning. These features allow monitoring the server, sending alerts, and tracking server health.